It's incredible how quickly Halloween is approaching! To make your Halloween celebrations even more Spooktacular, We have some free fantastic vintage Halloween labels for you. These Printable labels are absolutely free and perfect for designing your own Halloween bottle labels and unique stickers. You can use the captivating vintage Halloween art to achieve an enchanting antique apothecary aesthetic or create a chilling poison potion recipe. Let your creativity run wild this Halloween season!
These charming Halloween apothecary labels with an antique appearance are perfect for Halloween decoration. Designing them was an absolute delight, and using them was even more enjoyable!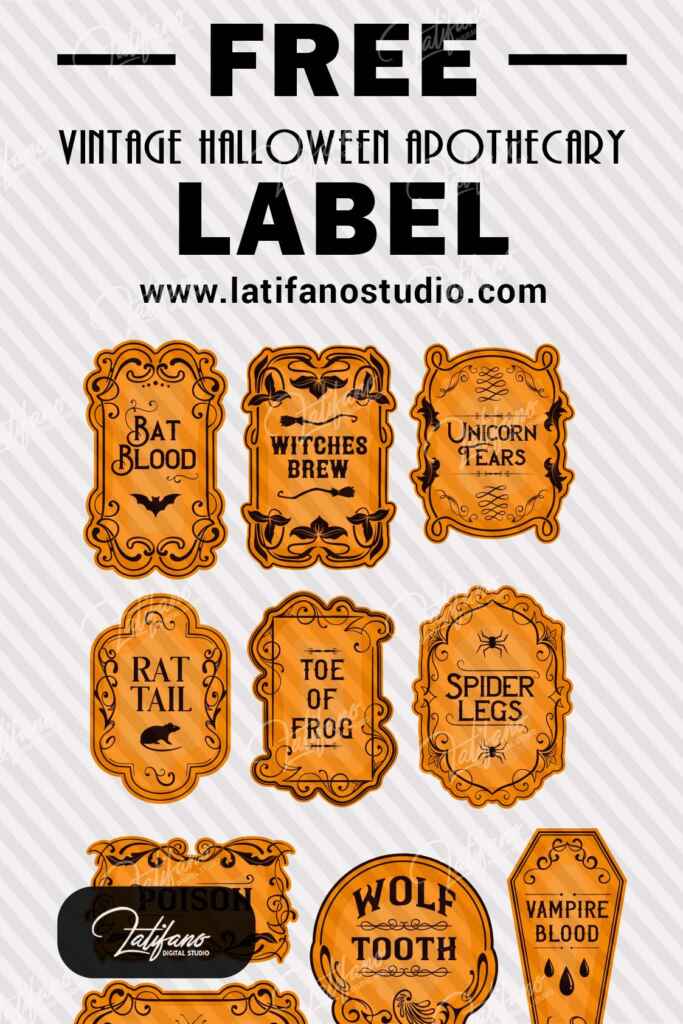 Note: To download this free printable apothecary labels for halloween, simply click on the download button which located at the bottom of the page within the green box. It will take you to the original website or to the download file.
What on this Free Printable halloween apothecary :
The PDF provided contains 10 apothecary labels of varying sizes, all set against a Brown wood vintage background. These labels are themed around intriguing elements such as Bat Blood, Witches Brew, Spider Legs, Unicorn Tears. Each label boasts its own unique design, ensuring a captivating and diverse collection.
PDF : Free Halloween Printable halloween apothecary – 8.5″ X 11″.
This Printable Halloween Bottle Label file is compatible with:
Any other PDF software reader!
Adobe Ilustrator, Corel draw
You may need some tools for this Holloween vintage label :
Adding vintage drug store labels to food or drink containers creates a distinctive Halloween aesthetic. You might need a few materials to be able to print and use these free printable label for halloween.
These labels have versatile applications, including adding a unique Halloween touch to food or drink bottles by dressing them up with old-fashioned drug store labels.
Regular paper works, but we suggest Card Stock or glossy photo paper.
Printer
Stickers
Twine, Ribbon, or Yarn
More Printable Halloween Pages & cards:
If you're looking for more printable coloring pages for the Halloween season take a look at our huge collection of free resources!
Download Free printable halloween apothecary
Create and Print your free Printable Halloween label at Home
Please Note. Printable and downloads designed by Latifano Studio are for PERSONAL USE ONLY. So, please do not alter the file or claim it as your own. Not intended for resale. Nor are the printed versions of this file.
TELL ME WHAT YOU DID!
We hope you liked these printable labels! If you want, feel free to comment below telling me how you used these Halloween vintage labels.
Could you do me a favor? Could you share these with your friend? Share buttons are at the very top.