Candy Guessing Game are guaranteed to capture the attention of both the young and the old. Let's be real, when was the last time you passed up an opportunity to take a guess at the number of items in a jar, whether it's filled with candy, pennies, or something else entirely!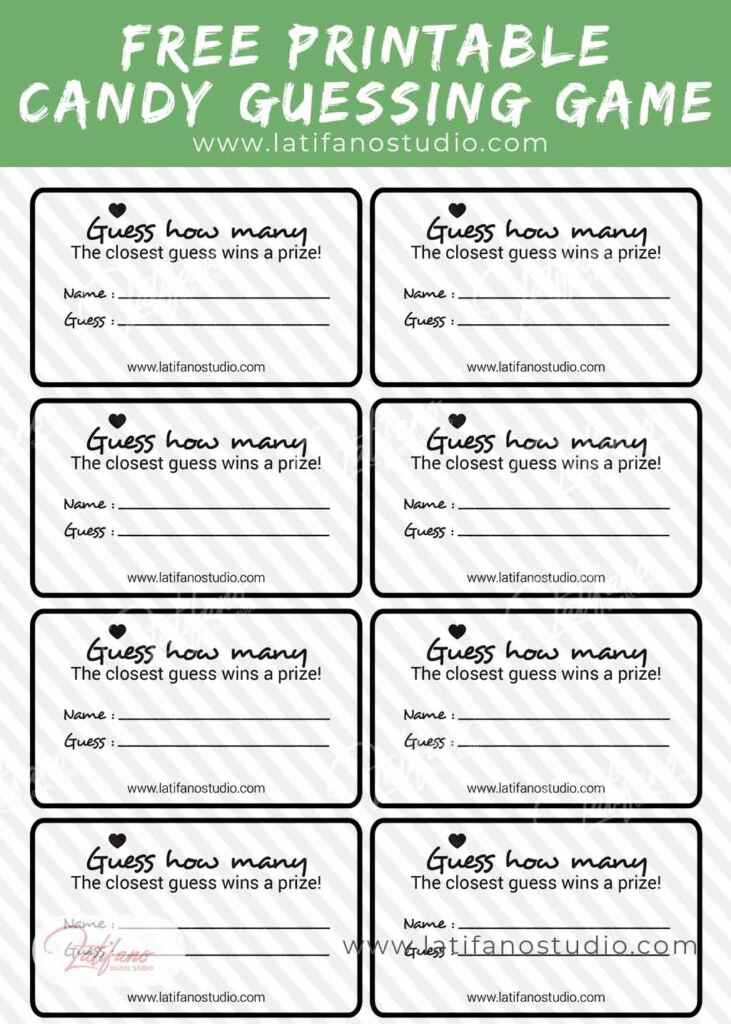 What on this Printable Candy Guessing :
This free printable Candy Jar contest Sheet pages Zip file contains :
1 JPG High Quality File ready to print / Candy Guessing Game. ( You can Print it as much as you want )
1 JPG High Quality File ready to print / Jar Poster with text graphic "Guess How Many Candies Are In The Jar"
Printable guessing cards to cut.
Size : 8.5″ X 11″.
Note: To download this Free printable Candy Jar contest, simply click on the download button which located at the bottom of the page within the green box. It will take you to the original website or to the download file.
You may need some tools for this Printable Candy Guessing Game:
Regardless of the contents of the jar or the method used to arrive at a guess, there's always a certain thrill in taking a shot at it.
You might need a few materials to be able to print and use this Printable guess how many sweets in the jar.
White Card Stock
Printer
Stickers
Envelop
Twine, Ribbon, or Yarn
Scissors or Paper Cutter
Some Instruction to play Candy Jar game :
Download and print the PDF templates for the sign and guessing cards. ( the download button is within the green box )
Cut out the sign and cards using scissors or a paper cutter.
Fill the jar with a variety of KISSES Chocolates. Use candy with wrappers that match your party's colors.
Set the jar, guessing cards and pens out on a table. Place the sign in front of the jar.
As guests arrive, instruct them to fill out a guessing card.
Have guests place their completed guesses in a decorative box, or collect the guessing cards later in the party.
Once all the guessing cards are collected, compare the guesses with the actual amount of candy in the container. The closest guess wins!
More Free Printable Coloring Pages & cards:
If you're looking for more printable coloring pages for the holiday season or anniversary cards for couples, take a look at our huge collection of free resources!
Download Free Printable guess how many sweets in the jar
Create and Print your Free printable candy guessing game sheet at Home
Please Note. Printable and downloads designed by Latifano Studio are for PERSONAL USE ONLY. So, please do not alter the file or claim it as your own. Not intended for resale. Nor are the printed versions of this file.
Do you have any question contacting us